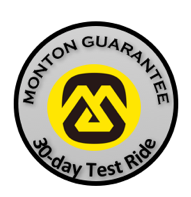 Take advantage of our 30-day guarantee. If you're not 100% satisfied within 30 days of riding in the products, you can send them back to us for a full refund/ credit.
Terms and Conditions:
This offer applies only to the products listed.

This guarantee is not intended to cover accidental/crash damage.

Proof of purchase must be supplied if requested.

Offer limited to four products per customer per calendar year.

Montonsports.co.uk reserves the right to change or cancel this offer at any time.

The Monton Guarantee is only applicable to items purchased from montonsports.co.uk.

You can use our freepost returns service (in the UK) but we will not refund the cost of postage if you use other services.

Items bought under the Monton guarantee must be returned within 30 days from the original date of purchase.